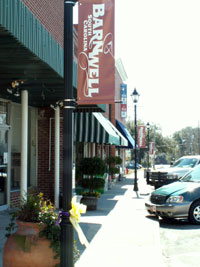 Adam's Nursery and Gifts
Hours: M-Sat: 9-6
Shop for plants, containers, and gifts!  Visit their website for more information. 
10066 Ellenton Street, 803-259-5631
Carol's Florist
Hours: M-T, Th-F 9 am - 5 pm, W & Sat 9 am-noon
Not just flowers, but gifts galore.  Check out all that Carol's has available from Simply Southern to gourmet delights.  
208 Main Street 803-259-0212
Palmetto Styles Salon 
Hours: T-F 9-6 or call for appt.
Full Service Salon & Day Spa featuring Merle Norman Cosmetics, jewelry and purses. 
243 Main Street 803-259-7961
Pick of the Litter Shoppe
Hours: M-F 10 am - 6 pm Sat 10 am - 4 pm
Run by the volunteers of Animal Advocates, this store has much to choose from: new and gently used clothing, books, bedding, antiques and many novelties...all donated to assist the Animal Advocates in their mission.
On the Circle, McDonough Street/Burr Street
Daisy's Boutique
Hours: M-F 9-5, Sat (call)
Women's plus sizes, regular and petites' apparel, jewelry and purses can be found here.  From Casual Wear, Business Attire to Evening Apparel, let Ruby find your best style.  118 Main Street 803-259-0011
Southern Couture
Hours: M-F 11-5:30, Sat 11-2
Specializing in Children's and women's clothing.
214 Main Street.
The Little Red Barn Gallery, Art & Pottery
Hours: W-F, 9-5 and Sat, 9-3, other times by appointment or chance.
A true gallery of unique arts and crafts by Barnwell County and other South Carolina artists.  This gallery features artist in residence; Master Potter, Liz Ringus, of Paw Print Pottery, who specializes in functional stoneware pottery and traditional SC face vessels.  The gallery is located at the junction of US. Hwy. 278 and route 37, (Just outside the City limits).  (803)541-7900.