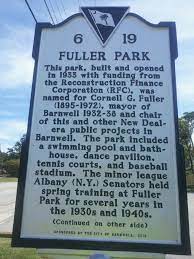 Fuller Park is owned and operated by the City of Barnwell and is located in close proximity to the downtown central business district.  It is also accessible by way of US Hwy 278 and State Hwys 37 and 64.  This is a main thoroughfare for residents of Barnwell County and visitors traveling through Barnwell.  Fuller Park has been enhanced by the city with recent grant funding (PARD) from the State as well as the Capital Projects Sales Tax.  Come enjoy our Splash Pad and ADA accessible Playground.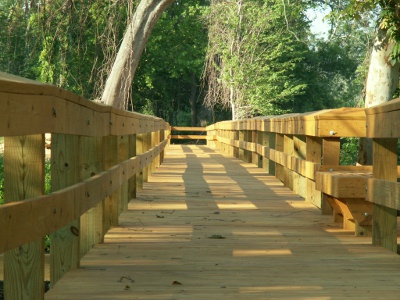 Fuller Park/Turkey Creek Trail, is a 1/2 of a mile asphalt/boardwalk multi-use trail. Turkey Creek runs along a boundary of Fuller Park and the trail runs along that boundary and the perimeter of the park.  An elevated boardwalk has been built through a section of the wetlands at the park so that the trail could expose citizens and visitors to the wetland habitat. Interpretive signs explaining the importance of the wetlands and the different species that inhabit the area are displayed along the trail. The first Trail head shelters has been built at the beginning of the trail head. The trail head shelter has picnic tables and grills. New for 2023,  Fuller Park is equipped with security cameras at several locations throughout the park and also has free WIFI accessibility.
This project was the beginning of a multi-phased trail project that attempts to link a number of recreational and educational facilities together throughout the city through the construction of a 3.5 mile multi-use trail. One of the fundamental pieces of this multi-phased project is the Fuller Park/Turkey Creek Trail.
FULLER PARK PLAYGROUND & SPLASH PAD
SplashPad:
Open: Every day April 15th through September 30th from 9:00 AM until 8:00 PM
                Saturdays and Sundays Only - October 1st through October 31st
Closed: November 1st through April 14th
Playground:
Open: Year round 
Fuller Park Disc Golf Course
Join your friends and family for a recreational fun game of Disc Golf on one of our Fuller Park amenities, the Fuller Park 9-Hole Disc Golf Course.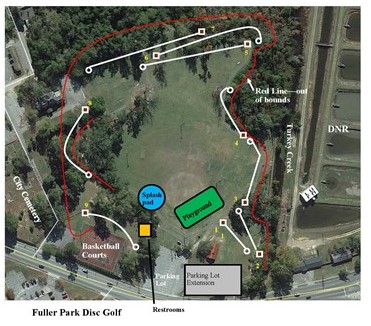 FULLER PARK ADA
For persons with disabilities requiring further assistance and ADA accessibility into the park, please call City Hall at 803-259-3266.